Tripawds is a user-supported community. Thank you for your support!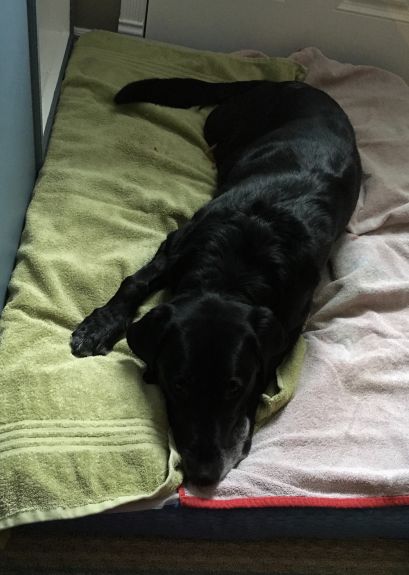 Ok. So, after Sunday evening's explosive fluid drain from Tyson's incision, I made an appointment with our vet and saw her on Monday. She confirmed the seroma, but was convinced it would be reabsorbed without intervention because it had already drained so much. She did give us another round of antibiotics, just in case, but didn't seemed concerned. In fact, she was really happy with how Tyson was moving around. He's quite the rock star at the vet these days.
So, off we went home and resumed our activity and Tyson's inactivity. He has not been pleased with confinement. I've been trying to do some low key games with him, but he's a runner….and he's pissed that I won't let him run. I can tell. 😕
Things were going fine. Stitches were scheduled to come out on Thursday. So, of course, on Wednesday night, the incision starts dripping again from the same spot. I brought Ty in on Thursday morning for his appointment and the tech said "yep, not taking those out…..you need to see a vet again." Bah! The earliest appointment was at 5pm and it would be with the vet who did the surgery.
At 5pm, I walk in there with Tyson. The surgeon walks in and she looks at Ty and says, "It appears, our star has a seroma." She walks over and gives one area a squeeze and "pop" SO much fluid poured out on to the floor!! I was like, "woah",but she and Tyson both seemed unphased. 😂. Anyway, they put in a drain. She wants the fluid to drain but not to drain through the incision. That HAS to heal up.
So, poor Ty is draining for a few days. It's amazing how different his hip looks now that the fluid is gone!!!! I had no idea how large the seroma was!! Hopefully this does the trick. I really want to let him out and let him go!!
Meanwhile, it's snowing here again, so I guess we aren't missing much outside.