Tripawds is a user-supported community. Thank you for your support!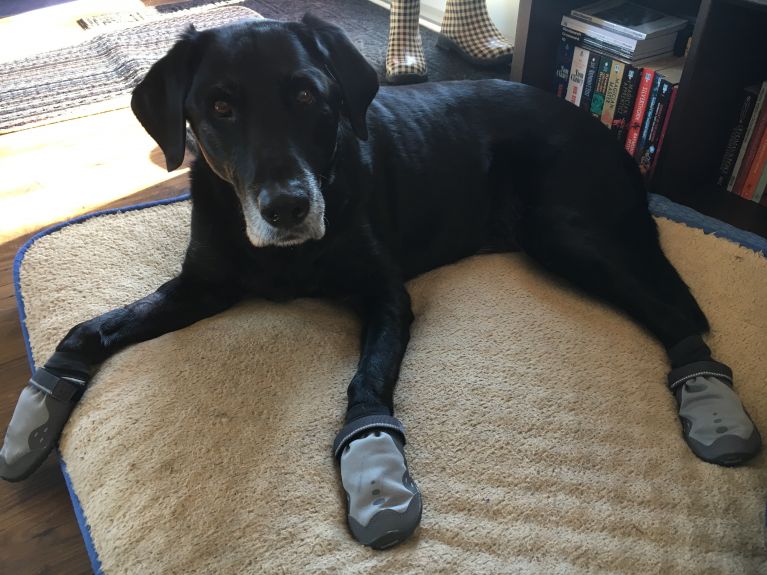 Well, they can't all be smooth days, can they?
Ty was up and about as usual yesterday.  Even ventured into the kitchen with me sporting his new toe grips.  However, that little burst of confidence was a bit too much.
I popped out to the store and when I returned, Ty was laying on his bed with grandma watching him.  Then, he burst up off the floor and ran over to me, apparently dodging ALL of the traction mats we have down, and slipped pretty awkwardly on the floor.  So much for the toe grips….
The rest of the day was hard for him.  He was really labouring to move around and he seemed miserable and unsure of walking inside. The fall pulled at the incision a bit and it was bleeding in one spot…cleaned it up quick and it re-healed but it was obviously a set back for him.
So, no more toe grips (Sorry, Dr Buzby).  Maybe we'll try again once he's more comfortable moving around.
Today he woke up peppy and had a great couple of walks outside with Gus.  I popped out and picked up some ruffwear boots, so he is going to try some sweet traction shoes for inside.  Hopefully they will help him move around inside a bit more comfortably and I won't be terrified of his slipping!!!
Thank you for all of the helpful comments and suggestions!  You are all so amazing!  We'll figure this out eventually….